Christmas is right around the corner. And time for shopping is slipping away. If you're on a budget and need some affordable Christmas gift ideas for less than $10, you've come to the right place.
This is the first year that we will be a one income household and the idea of gift giving has been weighing on me. Most of my friends and family who usually receive gifts from me, may not be getting anything this year. And the ones who are will be noticing some significant downsizing.
Of course, Christmas isn't about how much you spend, but for me it's more about the ease of shopping when you're not thinking about a budget. When budget isn't an issue there is a freedom that comes when you're not worried about price.
I was thinking it would be way more difficult to buy a few gifts with less money. But as I searched for great gift ideas for $10 or less I came across so many sweet things. Some thoughtful. Some partially homemade. My search, in essence, proved that I was wrong. So maybe I had to search a little bit longer, but great ideas are out there! Here are 15 of my favorite ones.
The List: 15 Christmas Gift Ideas for $10 or Less
I loved these spoon rests. They are made from earthen ware and have a little retro, yet modern feel to them. They just feel different and memorable.
What mom wouldn't love to get a pair of these frames for their kids artwork? I mean, the idea is ingenious. Swap your kid's artwork out from week to week without even taking the frame down from wall. If I wasn't on a budget I'd order a few for myself! (honey, if you're reading this, I'll take four)
The folks at Wilton are the cake and baking experts. And these snowflake mini-bread tins are perfect for making loaves of your favorite quick bread and giving them to your friends. Nothing says Christmas more than a homemade treat. Plus for 4 tins for $4.99, this gift is super affordable. A great idea for a neighbor gift.
Mason Jar Cookies
Can't bake? These cookies in a jar are a great compromise. Fill a mason jar up with most everything it takes to make cookies (except the wet ingredients). Tie a red & green ribbon around the top and put a little handmade tag on them and voila! Check out a great collection of delicious recipes at DIY Joy.
This sweet mug exudes femininity. The pink cup with gold accents feels like it was made for a cup of tea after Sunday dinner. Or for having a hot cocoa on a cool winter's night. And any mama I know, would gladly hold this mug like a badge of honor.
I love Etsy. It's definitely a guilty pleasure. Of course, I don't have budget to do much shopping here regularly. But you can find some great buys on Etsy if you look. These sugar scrub cubes are one of them. What woman doesn't like a nice bath product? Sugar scrub is a a lifesaver for any mom. It's exfoliating and moisturizing in one step. And the eucalyptus and mint combo makes you feel like you're at a spa.
My favorite aunt gave me one of these a few years ago. When I first opened it I didn't even know what it was. After I found out that it was a bowl cozy so that you didn't burn your hand on a hot bowl of soup from the microwave, I was still skeptical. I was just unsure that we would really use it. The crazy thing is that every time we eat soup my husband and I fight over that little microwave bowl cozy! These are great, useful gifts that come in a wide range of patterns and colors. You'll find this one available on Etsy.
Who doesn't like a fancy dish like this? Whether you use it for jewelry, spare change, hair clips, candy or just as a pretty decoration. This one from ChristianBook.com has a sweet message of hope for you every time you look at it. And for $7.99 it's a deal.
It's always been funny to me. The idea of giving someone a Christmas ornament or decoration. But I love getting them! And wooden text signs are very trendy right now. So brighten someone's day with this rustic addition to their Christmas decor.
I love my Sarah Young devotional. I use my devotionals in rotation, but I always come back to this one. Every time I read it, I feel renewed and refreshed. It's such an uplifting start to my day. I gave one to my mom. My mother-in-law saw it at my house and she got my sister-in-law a copy. My aunt saw my mom's, so my mom gave her that one and she got another one. It will truly be a treasured gift and will be passed along.
Ok, so I know this is another coffee mug, but I found this and just loved the message. My morning coffee is my calm bit of respite in my day. The first sip is something I look forward to the moment I wake up. I know I'm not alone in that. This cup of coffee will be doubly sweet with the reminder of God's goodness.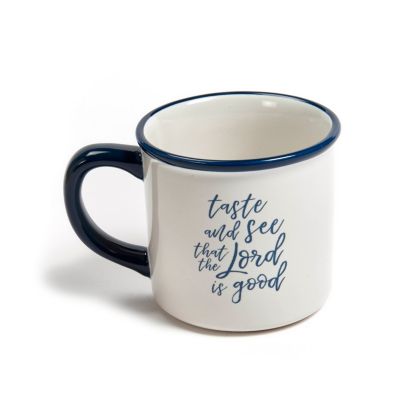 Kitchen towels + wooden spoon
Here's a bit of a DIY idea of sorts. Buy two kitchen towels and a wooden spoon. Package them together with a homemade gift tag and ribbon. It's an instant Christmas cooking and baking accessory pack. This combo makes a great hostess gift.
This little vase is so super cute, I can't believe it's under $10. I can picture this sitting on a desk or on a kitchen window sill with a few freshly picked flowers. To me, the best gift is something of beauty, but something you'd never just buy for yourself. A vase is one of those things.
Everywhere I go, I see these types of tumblers. Whether it's a neighborhood gathering, a cookout at a friend's house or a bridal shower. This cute Christmas themed tumbler is under the $10 mark and would make a great gift to any girlfriend.
For all of your high tech friends, finally the perfect gift! And again, it's under $10. I don't know about you, but I use my phone or iPad for everything these days. Including finding great recipes for dinner. I saw this and immediately put it on my Christmas list. This would be the perfect companion in the kitchen to hold my phone and be able to access recipes more easily.
So, there you go. Fifteen Christmas gift ideas for $10 or less. Whatever you choose, whether it's something on this list or not, I hope this has shown you that you don't need to spend a lot of money to find quality gifts for your family and friends at Christmas.
Of course, Christmas really about this gift giving, but who doesn't like to give the important people in their lives a thoughtful present at Christmastime? I love giving gifts. Especially ones that people love. And the good news is, even when you're on a budget, you don't have to give that up.
If you're looking for ways to focus your family on the true meaning of Christmas, check out this blog post.
Here's wishing you and your family have a very Merry Christmas!
Isaiah 9:6 – For to us a child is born, to us a son is given; and the government shall be upon his shoulder, and his name shall be called Wonderful Counselor, Mighty God, Everlasting Father, Prince of Peace.